Elite Match is a CROSS-SERVER Battle where all Ninjas from different servers can compete with each other to test their prowess.

Go to Functions and select Elite Match
Requirements
Lv. 72 (and above) players can attend Elite Match.
Register between 5:30-24:00 to attend the next day's Elite Match between 12:00-22:00.
VIP 8 or higher level VIP players will auto register at 24:00; if no challenge is initiated for 3 consecutive days, registration will be canceled.
Challenge foes to win credit points. A small number of points will be given even if you lose.
There are several groups of rivals for you to challenge. If you are strong enough, you can try
Super Challenge to fight more powerful opponents to earn a large number of points.
Ranking list will be updated at 2:30 everyday. The team to be challenged is the team you use during registration.
Participants will be divided into 7 (seven) groups according to their points, which from high to low are:
Top , Kage, ANBU, Jounin, Chunin, Genin, Student. The higher the group level is, the better the rewards will be.
Participants will be grouped on the first day of the match according to PVP and generate the initial points. (Initial Points does not pertain to BP or Battle Points. Initial Points are you over-all battle capacity or PVP Combat Power.)
The defensive team to be used in battle is the team you set during registration.
Points will be reset at the end of each season. Challenge Order and Top Stone can still be redeemed and be stacked for the next season.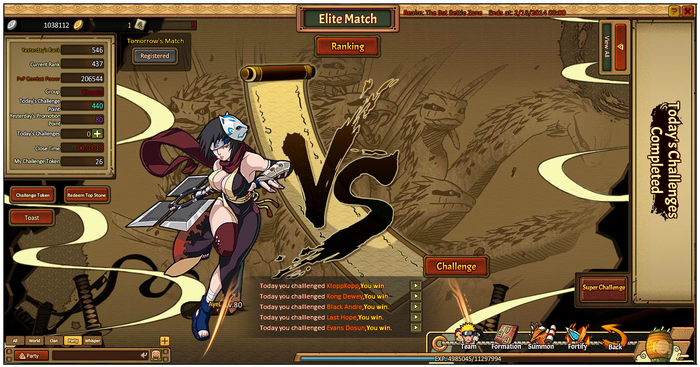 Challenge Token [Shop]
Challenge Order is automatically converted as Challenge Tokens.
This is where you use you Challenge Tokens to purchase items.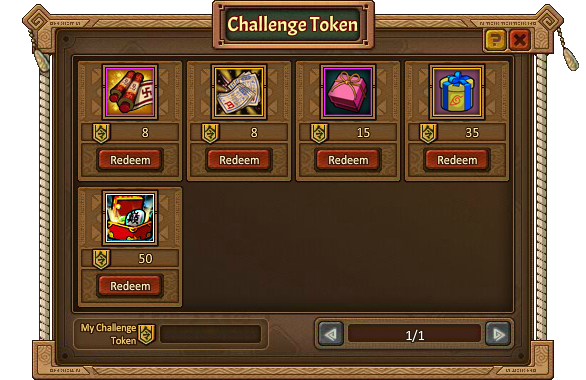 How to get Challenge Token?
After defeating certain number of enemies in the Elite Match, a reward chest is automatically opened.
The chest contains Challenge Tokens.
The fight starts from right to left. You start with 6 enemies, going to 5, then 4, then 2 then 1.
The contents of the reward chests varies depending on the enemies on that bracket. The more enemies, the more Challenge Tokens you may recieve.

Redeem Top Stone
After accumulating enough Top Stones, you can exchange it for rare ninjas and epic equipment.