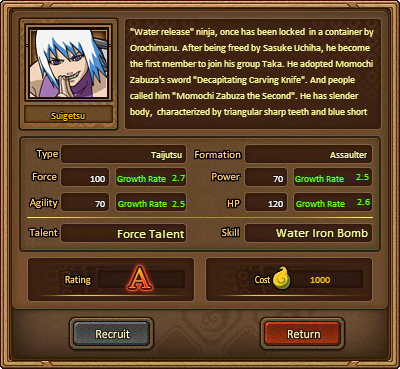 "Water release" ninja, once has been locked in a container by Orochimaru. After being freed by Sasuke Uchiha, he became the first member to join his group Taka. He adopted Momochi Zabuza's sword "Decapitating Carving Knife", and people called him "Momochi Zabuza the Second". He has a slender body, characterized by triangular sharp teeth and blue short hair.
Attributes 
Type - Taijutsu
Formation - Assaulter
Force - 100 (Growth: 2.7)
Agility - 70 (Growth: 2.5)
Chakra - 70 (Growth: 2.5)
Health - 120 (Growth: 2.6)
Abillities
Passive/Talent
Force Talent
Increases a certain Force by percent (15% Force)
Skill
Water Iron Bomb
Attack enemy vanguard, growth rate 220%, increased casters Attack Power by 18% for 3 round
Cost
Ad blocker interference detected!
Wikia is a free-to-use site that makes money from advertising. We have a modified experience for viewers using ad blockers

Wikia is not accessible if you've made further modifications. Remove the custom ad blocker rule(s) and the page will load as expected.