Event was first added 12 January 2015 and lasts for 6 days.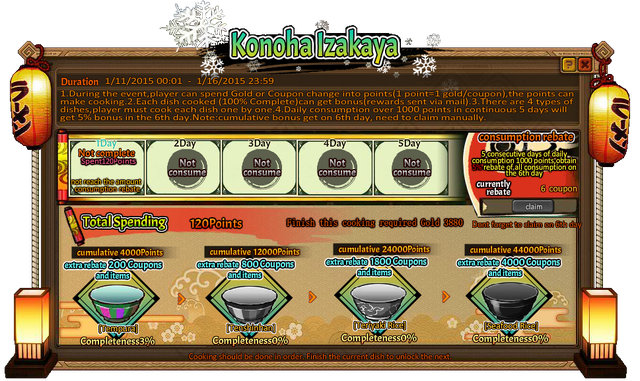 Event Info
During the event, player can spend Gold or Coupon change into points ( 1 point = 1 gold/coupon), the points can make dishes.
Each dish cooked (100% Complete) can get bonus (rewards sent via mail).
There are 4 types of dishes, player must cook each dish one by one.
Daily consumption over 1000 points in continuous 5 days will get 5% bonus on the 6th day.
Note: Cumulative bonus on the 6th day need to be claimed manually.
---
Dishes
Below are the appropriate points needed to unlock a dish and the rewards associated with the dish.

Dish
Tempura
Coupon*40
Epic Exp Scroll*2
Soul Refining Pill*3
Channeling Scroll*5
Treasure Talisman*5

Sent in 5 times.
4000 Points
Tenshinhan
Coupon*160
Fairy*3
Leap Rune Stone*5
Channeling Scroll*10
Treasure Talisman*10

Sent in 5 times.
12000 Points
Teriyaki Rice
Coupon*360
Perfect Fruit Pack*1
Colorful Spar*2
Channeling Scroll*15
Treasure Talisman*15

Sent in 5 times.
24000 Points
Seafood Rice
Coupon*800
S Weapon Enhance Talisman*1
Super Potency Pill*2
Channeling Scroll*20
Treasure Talisman*20

Sent in 5 times.
44000 Points
---
Ad blocker interference detected!
Wikia is a free-to-use site that makes money from advertising. We have a modified experience for viewers using ad blockers

Wikia is not accessible if you've made further modifications. Remove the custom ad blocker rule(s) and the page will load as expected.