The Persian merchant coming from a mysterious land is said to own countless treasures.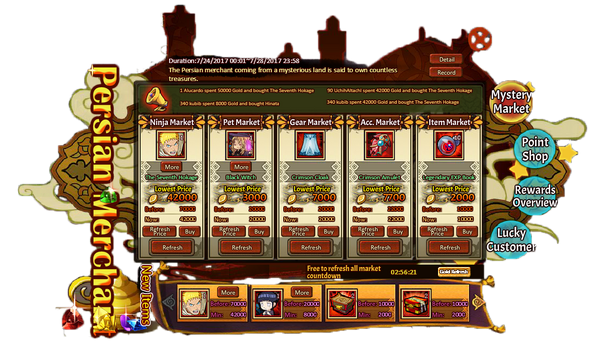 Event Description
You can buy all types of items from the Persian Merchant.
Persian Merchant has 5 different markets, which are Ninja, Pet, Gear, Acc and Item markets. Each market sells different items.
You can refresh all markets to refresh items(200 Gold required, or get 1 free change to refresh every 6 hours). You can also choose one market to refresh(50 Gold required).
The price of all items in the market can be refreshed(cost 200 Gold). Price will change to a random price if you refresh, but will not be higher than the original price.
Gold spent in the Persian Merchant will be converted into points(100 Gold=1 Point), which can be used to redeem various items in the Point Shop.
Coupons are not allowed in this event.
Owned ninja cannot be bought a second time.
Mystery Market
The Seventh Hokage

Min Price




42000

Max Price




70000

Naruto & Sasuke

Min Price




40000

Max Price




70000

Minato & Kushina

Min Price




39000

Max Price




70000

Sasuke & Sakura

Min Price




38000

Max Price




65000

Hidan & Kakuzu

Min Price




36000

Max Price




65000

Deidara & Sasori

Min Price




33000

Max Price




65000
Madara & Obito

Min Price




32000

Max Price




60000

Pain & Konan

Min Price




31000

Max Price




60000

Kakashi & Gai

Min Price




30000

Max Price




55000

Sasuke & Itachi

Min Price




28000

Max Price




55000

Naruto & Hinata

Min Price




26000

Max Price




55000

Reanimated Hiruzen

Min Price




25000

Max Price




50000
Divine Break

Min Price




6300 8400

Max Price




18000 24000
Crimson

Min Price




6300 8400

Max Price




18000 24000
Flame

Min Price




4800 6600

Max Price




16000 22000
Christmas

Min Price




7000 8400

Max Price




20000 24000
Crimson

Min Price




7000 8400

Max Price




20000 24000
Flame

Min Price




5400 6600

Max Price




18000 22000