One of "The Seven Ninja Swordsmen of the Mist".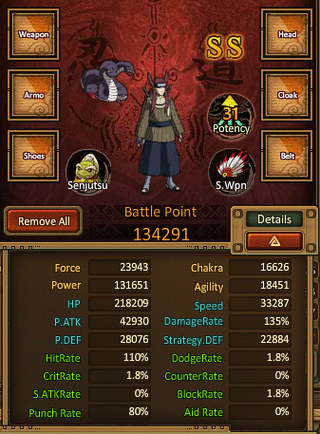 Description
The only female member of "The Seven Ninja Swordsmen of the Mist" and master of the Boltsword, can control the lightning attack. She is called the thunder release genius.
Rating

Details
Type: Taijutsu
Weapon: Kunai
Formation: Assaulter
Force: 1500 (Growth: 4.1)
Agility: 1500 (Growth: 3.6)
Chakra: 1450 (Growth: 3.9)
Health: 6000 (Growth: 4.5)
| Passive/Talent | |
| --- | --- |
| Lightning Fang | Increases a certain force by percent, naturally has 8% avoid injury rate and a small chance for punch rate. (15% Force) |
| Skill | |
| Thunder Gate | Attack all enemies, growth rate 200%, reduce all enemies Fury by 25 points and Speed by 10% for 3 rounds. Increase caster's Speed by 30% and Defense by 10% for 3 rounds. |
Cost
Ad blocker interference detected!
Wikia is a free-to-use site that makes money from advertising. We have a modified experience for viewers using ad blockers

Wikia is not accessible if you've made further modifications. Remove the custom ad blocker rule(s) and the page will load as expected.